Simon Wallace grew up in South Wales. In the late 1970s he studied music at University College Oxford before going on to a varied international career as a composer, pianist and musical director.
In 1980 he met film and TV composer Simon Brint establishing a writing partnership that continued until Brint's death in 2011.  Over the years they wrote and produced music for some of Britain's most popular television shows including: 'Absolutely Fabulous', 'Murder Most Horrid', 'French and Saunders', 'The Ruby Wax Show', 'The All New Alexie Sayle Show', 'Coupling', 'The Ben Elton Show', 'A Bit of Fry and Laurie', 'The Lenny Henry Show' and many others.
He worked with lyricist and beat generation survivor Fran Landesman from 1994 till her death in 2011, writing songs that continue to be performed and recorded by singers on both sides of the Atlantic. The Observer newspaper once called them 'one of the finest songwriting partnerships alive'.
In 1987 he was commissioned to write a five movement symphony for the Bangkok Symphony Orchestra as part of HM the King's 60th birthday celebrations leading to performances, broadcasts and a CD release in Thailand.  In 2006 the orchestra commissioned a three movement symphonic work 'Fanfare and Rhapsody' which was premiered in Bangkok as part of the Royal Jubilee celebrations.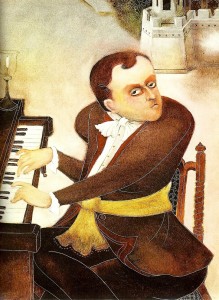 portrait by Uab Sanasen, Bangkok 1988
From 1990 to '93 he toured extensively with Lindsay Kemp's show 'Onnagata',  playing music devised in collaboration with composer/percussionist Joji Hirota.
From 2004-2007 he was musical director for award winning British jazz singer Clare Teal, arranging and directing  the CD 'Don't Talk' (SonyBMG) and numerous broadcasts with the BBC Big Band and the BBC Concert Orchestra.
In 2010 he toured in Britain and the USA with Barb Jungr and in Ireland, Norway and Portugal with the Waterboys.   In 2013 he toured UK and Australia with Barb Jungr.
He is married to singer Sarah Moule with whom he has made four CDs, the latest 'Songs from the Floating World' is released in September 2014.
Simon is a familiar face on the London jazz scene, appearing regularly at Ronnie Scotts Club, the 606 Club and the Vortex with some of Britain's finest musicians.